Marta Niedbał, Interdisciplinary artiste currently based in Kraków, Poland. Graduated from the Academy of Fine Arts in Krakow and completed a scholarship at the LCC University of the Arts in London.

Through the weaving of threads, Marta Niedbal's work reveals sensual leakages and unstable boundaries. She is interested in fluidity, which challenges dualisms and dichotomies and engages the body with its relationship to affect, emotionality and sexuality. Her weaving process can be understood as a form of soft resistance by opening narrative spaces for the peripheral and emphasizing the role of space in the discussion of different forms of solidarity, empathy and 'being in that together'.


contact: ︎
martaniedbal@gmail.com
Background video: Excerpt from Somnium Soft-Core, collective short film story about leaky bodies immersed in the courtship of dreamy mesh, in a more-than-human relationship where tenderness, magic and softness stir up desires of an ever emerging new world.
More here >
Upcoming:
2023.10 –
Hold Me Closer
, duo exhibition with Paweł Olszczyński, as part of WGW, Hos Gallery, Warsaw
2023.10 –
Refugees Welcome
, group exhibition, Museum of Modern Art in Warsaw, curator: Szymon Maliborski
2023.10 –
Back to school,
Society of Friends of Zachęta / Razem Pamoja Foundation, Secondary School Wyspiański in Tychy
Past:
2023.05 –
Na Krawędzi (On the Edge)
o/b/c/y
artist run space, Warsaw / Marta Niedbał, Olaf Brzeski, Julia Zborowska, curated by: Anna Maria Karczmarska, Mikołaj Małek
2023.03 –
Fluid Circulation
, The interdisciplinary research and exhibition project – Hydrofeminist Explorations in Post-Industrial Landscapes brought together artists, curators, authors, hydrologists and environmentalists to investigate local bodies of water.., group show,
KunstWerk Köln
, DE, coordination: Nada Rosa Schroer i Nina Paszkowski
more >
__________
Art-residency within Fluid Circulations project, Cologne, Germany, July 2022
__________
2022-23 –
Zmęczenie materiału, MATERIAL FATIGUE.
THE NATIONAL EXHIBITION OF POLISH TAPESTRY.
Central Museum of Textiles
in Łódź,curator: Jakub Gawkowski
more >
2022.09 –
Niepokój przychodzi o zmierzchu
, Zachęta, National Gallery, Warsaw, PL, kuratorka: Magdalena Komornicka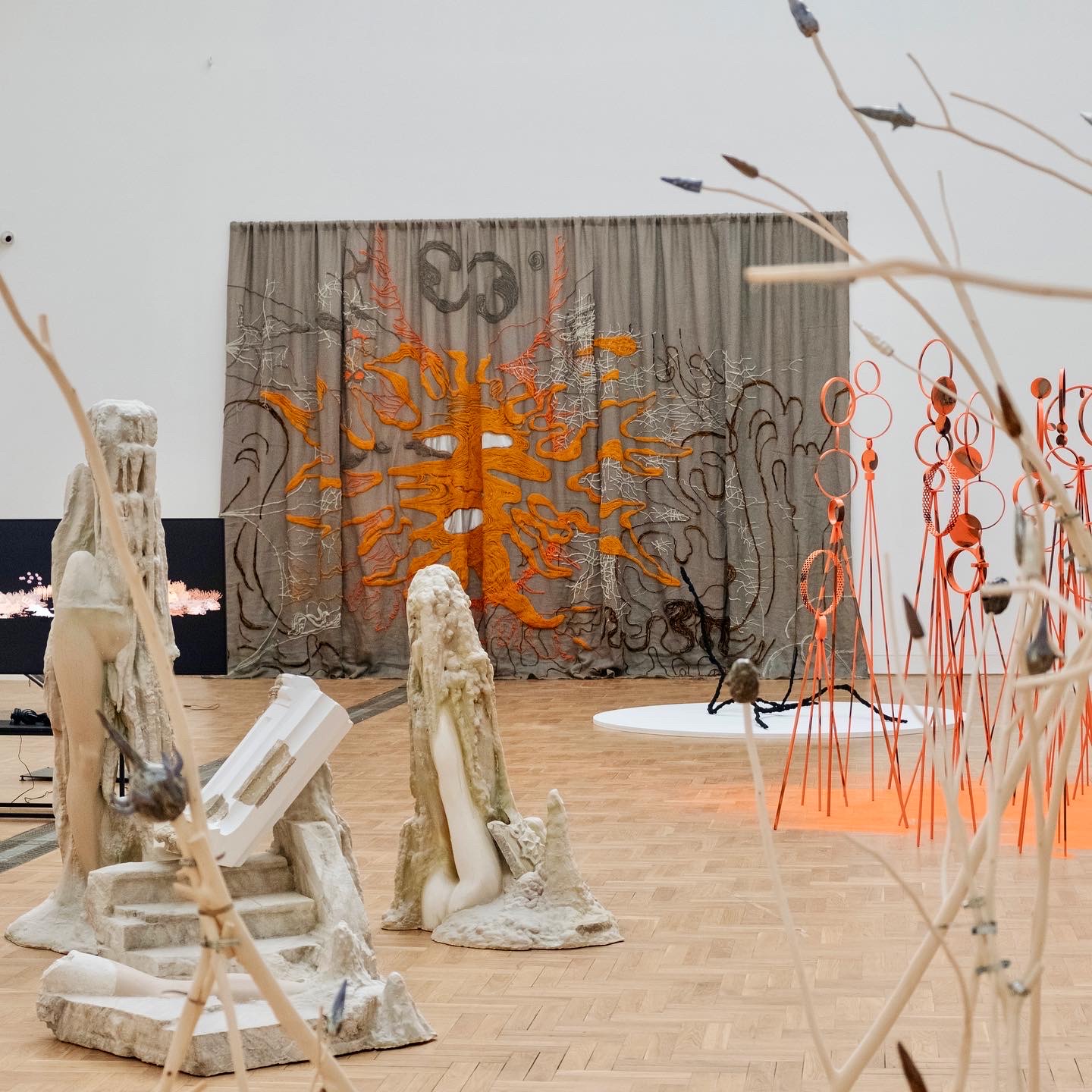 2022.06 – Some Holes in This House,
Solo exhibition, Elementary for city dwellers, Krakow, curator: Arkadiusz Półtorak
read interview here >
2022.04 –
Interior
, group exhibition, BWA Katowice, curator: Marta Lisok
2022.01 –
Pharmacist,
group exhibition, MM Tychy City Museum, Tychy PL, curator: Agata Szymanek
2021.12 –
Somnium Soft-Core
duo exhibition and film screening made together with Jan Jurczak, Czwartek Gallery Warsaw, PL
2021.10 –
Sabat
group exhibition, Podbrzezie Gallery, Cracow PL, curators: Magdalena Lazar, Lidia Krawczyk.
__________
Basel Art Fairs & Dinner Evening with Polish Galleriesgroup exhibition in Swiss Embassy, Warsaw, PL 2021
__________
2021 –
Magical Renewal Salon
group exhibition, Widna Gallery, Kraków, PL curator: Marta Kudelska
2021 –
Young Trapped
, group exhibition, Heart of Man Gallery, Krakers, Cracow Gallery Week, Cracow PL / curator: Kamil Pierwszy
–––––––––
Frieze and Emblem, Practical manifesto of new visual arts forms in Polish schools, collective exhibition / ArtInfo, Razem Pamoja Foundation, Towarzystwo Zachęty Sztuk Pięknych, Warsaw, PL 2021 / curator: Bartosz Przybył-Ołowski
You will never walk alone!group exhibition / Labirynt Gallery, Lublin PL 2021
WGW. Effects of pandemic. SNY group exhibition, the Heart of Man Gallery, as a part of Warsaw Gallery Weekend, PL 2020, curator: Kamil Pierwszy
A Dream within a Dream group exhibition / Dzidy Duo Garden, Warsaw, PL 2020 curators: Aleksandra Liput, Michalina Sablik
Home Fire duo exhibition / together with Marcela Adamczyk / Death of a Man Gallery, Warsaw, PL 2019kurator: Kamil Pierwszy
What We do in the shadows group exhibition / Widna Gallery as part of Krakers, Krakow Gallery Week PL 2018 / curator: Magdalena Lazar
Together Light installation, realised with Magdalena Lazar and Barbara Janczak, as part of the exhibition and project U-turn, Organhaus Gallery, Chongqing, China, 2017 / curated by Ni Kun
Motion vs Rest Vol.3 group exhibition and 3rd edition of Dimension Art Centre project, Chonqging, China 2017
Motion vs Rest Vol.2 group exhibition and 2nd edition of the project / SM Debniki Gallery as part of Krakers, Cracow Gallery Week PL 2016
Motion vs Rest Vol.2 art-book premiere during Editorial editions exhibition at Espace Gallery, Montreal, Canada, 2015, curated by Collectif Blanc
OFFM Art Panels festival, art in the city space, Frankfurt, DE, 2015
Group exhibition (Trans-Trippies project) SM Debniki, as part of Krakers, Krakow Gallery Weekend EN 2015
Illustration above-collective exhibition, Gallery of the Academy of Fine Arts in Krakow, 2015 curator: Olga Grodniewicz
Home is just a state of mind, Solo exhibition and multidisciplinary project presented in the forest space and at EyeLevel gallery in Halifax, NS, CA, 2014
Think: LiteratureInteractive urban installation realised together with Iga Niedbał-Burzak in the old market square in Krakow, Main prize in the Conrad festival competition, PL, 2012
Scholarships, Fairs, Auctions:
Let's Meet! Solidarity with Ukraine. Charity Lottery, Elementary for city dwellers, Krakow, 2022
Liste Art Fair Basel Premiere exhibition of works at the Swiss Art Fair as part of Art Basel Represented by Gallery Heart of Man, Basel, CH 2021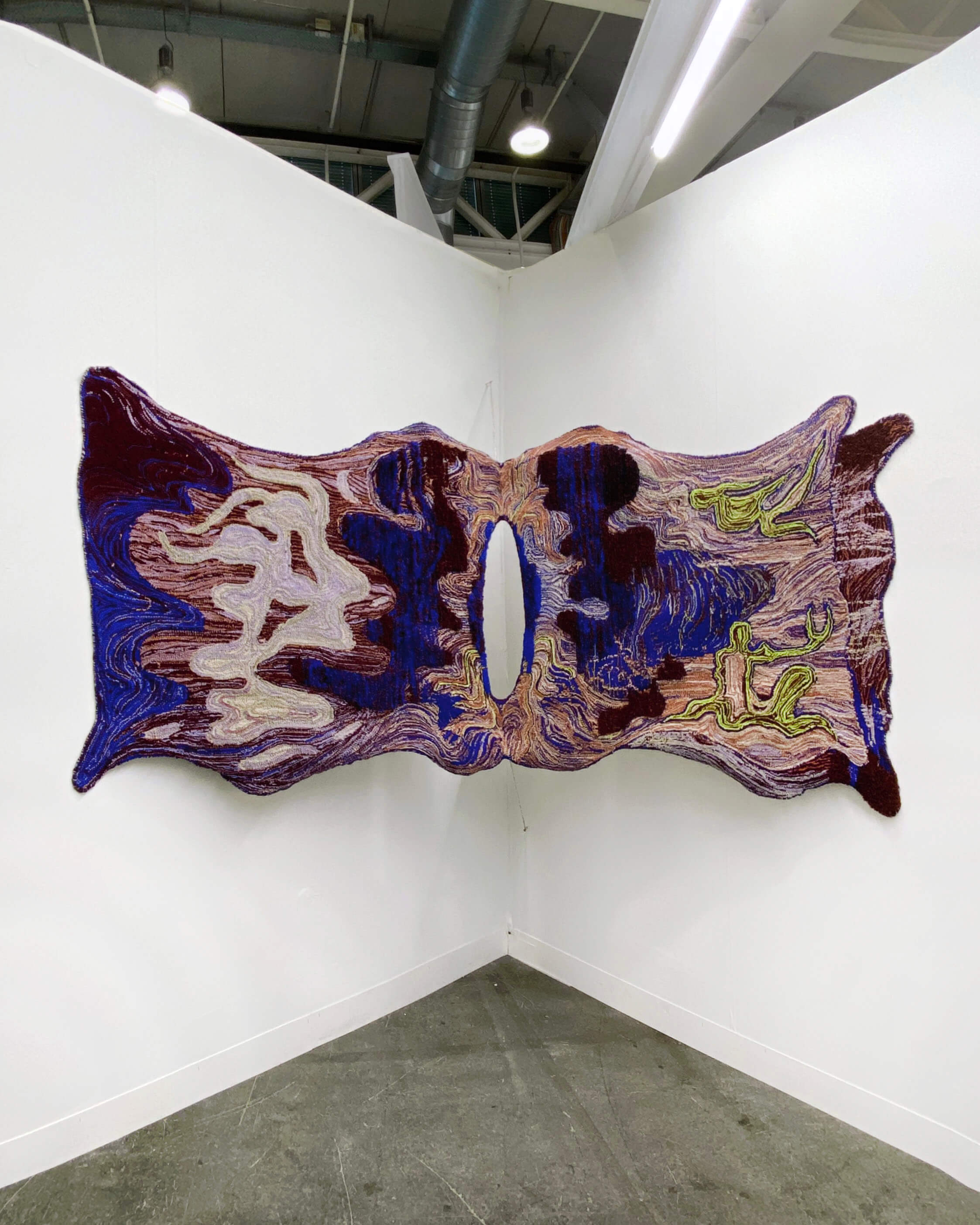 Scholarship, Andrzej Szczypiorski Fund for the Promotion of Creativity of the ZAIKS Society of Authors, 2021
Polish School of Textiles group exhibition and auction, Desa Unicum, Warsaw, PL 2021
Polish School of Textiles group exhibition and auction, Desa Unicum, Warsaw, PL 2020
5th Charity Art Auction - The Art of Helping, Razem Pamoja Foundation, Desa Unicum, Warsaw, 2020
Design. Woman's Art.collective exhibition / group exhibition / Desa Unicum gallery Warsaw, PL 2019 / curator / curator: Cezary Lissowski
Residency projects and participation in workshops:
New Rules International summer residency project organized by Nowy Teatr Komuna Warszawa, Warsaw, PL 2021
Ceramic Plein-At the invitation of Razem Pamoja Foundation, within the framework of Back to School project Kadenówka Creative House, PL 2020
Flow Dzika rzeka plein air on the Vistula River / upon invitation of Together Pamoja Foundation and Ewa Ciepielewska, PL 2020
Hermetic way of thinking astrology workshops upon the invitation of artist and curator Paulina Ołowska, Dom Twórczy Kadenówka, PL 2019Conductor: Miloš Mušicki
Rock-paper-scissors urban project within the CÁO Create the train festival, Sichuan Art Institute, Chonqging, China 2018
U-turn International urban workshop and group exhibition / Organhaus Gallery, Chonqging, China 2017, curated by Ni Kun
Selected teaching projects / conferences / conducted workshops:
Towards deskilling. New relations between art and (in)knowledge / Guest speaker at a public panel discussion of the Department of Performatics, Jagiellonian University, 2022
Motion vs Rest public lecture at ESAD Matosinhos university, Porto, PR 2019
New Collaboration public lecture at the university Sichuan Art Institute, Chongqing, CN 2018
Miadetica typographic workshop led with Barbara Janczak together with students of the Chinese university MIADA, CTBU, Chongqing, China, 2017
Define hybrid workshop with students of Ecole Supérieure d'Art des Pyrénées, Pau, FR 2016
From the need for a secret typographic workshop with students of the Institute of Graphic Arts, majoring in Art & Design, in collaboration with the library of the Institute of Slavonic Philology, Jagiellonian University, 2019
Realisation of photobook projects
A series of workshops with students as part of the EU programme University of the highest quality - UP to the TOP Pedagogical University of the National Education Commission, 2019
Luxus, workshop within the Kioosk project, Visegrad Markets II, Bratislava, SL, 2014 / curated by Marta Niedbal, Barbara Janczak, Łukasz Podolak
Independent practices, lecture at the Department of Industrial Forms, together with Łukasz Podolak, ASP in Kraków, PL, 2014
Kioosk, Conference and Fair of Independent Publications, Krakow, 2012 - Konfederacka 4, 2013 - Dom Kolejarza, Bratislava 2014 - Visegrad Markets.Curators: Marta Niedbał, Barbara Janczak, Łukasz Podolak